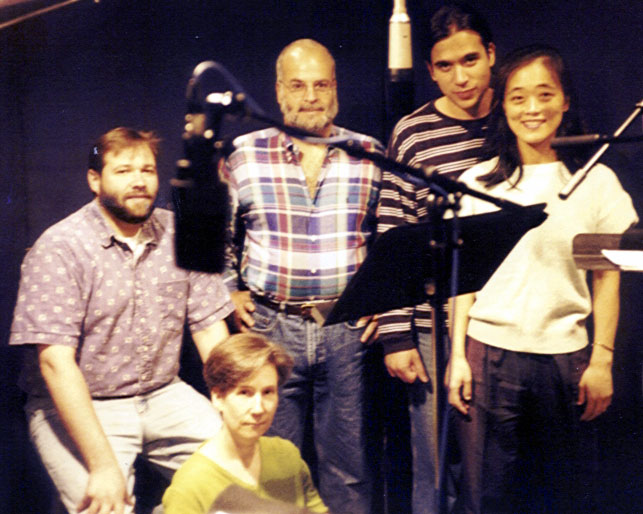 The Goldene Keyt Singers in session.
L-R: Michael Steinberger, Mary Ellen Callahan, Mark Zuckerman, Thomas Meglioranza, Hsi-Ling Chang.
Soprano Mary Ellen Callahan appears frequently as soloist in a variety of repertoires from Renaissance to contemporary. Familiar to New York City audiences as soloist with the Collegiate Chorale, the Riverside Choral Society, the Dessoff Choirs and the Central City Chorus, she has also performed with a number of symphony orchestras. Ms. Callahan can be heard with the Washington Bach Consort and conductor J. Reilly Lewis in the J.S. and C.P.E. Bach Magnificats, available from Newport Classics. She is featured on a Helicon Classics CD called A European Christmas, and she is the guest soloist with the Russian Chamber Chorus of New York in a CD of contemporary Russian music by Yuri Yukechev entitled My Heart Is Ready, released by Helicon Classics. She can also be heard in the world premiere recording of Handel's opera Faramondo, a Vox Classics CD, and sings music by Amy Beach on the Newport classics CD entitled Distant Playing Fields.
Mezzo-soprano Hsi-Ling Chang grew up in Taiwan and in Spokane, Washington. She received her Master's degree in piano performance from the University of Houston where she studied with Abbey Simon. She has appeared at the Texas Music Festival, was the accompanist for the Houston Ballet, and regularly accompanies baritone Thomas Meglioranza in recital. In addition to her work as a pianist and singer, she is also a Grammy nominated recording engineer.
Tenor Michael Steinberger made his New York Philharmonic Solo debut with Audra McDonald in Kurt Weill's "The Seven Deadly Sins." Well known to audiences as a member of prestigious ensembles like Pomerium and Waverly Consort, he is increasingly in demand as featured soloist. His credits are varied and, in addition to classical styles from medieval through contemporary, include jazz, pop, and world music. He appears frequently as both soloist and ensemble singer with most of New York's premiere vocal ensembles, including Voices of Ascension, Musica Sacra, Hudson Shad, Anonymous 4, Lionheart, the New York Virtuoso Singers, the Western Wind, and New York Ensemble for Early Music.
Baritone Thomas Meglioranza is quickly establishing himself as one of the country's most sought after singers for a wide variety of repertoire including oratorio, opera and orchestral works. Recently, Mr. Meglioranza was named a winner of the Concert Artists Guild International Competition. He is also the 2002 Joy In Singing Award Recipient. A passionate advocate of contemporary music, he sang John Adams' "The Wound Dresser" at the Tanglewood Festival with conductor Reinbert de Leeuw, gave the Japanese premiere of Aaron Jay Kernis' song cycle "Brilliant Sky, Infinite Sky" in Sapporo under the direction of the composer, and John Harbison's "Words from Paterson" at the Bowdoin Music Festival with Jeffrey Milarsky conducting. Mr. Meglioranza has also given premiere performances of many orchestral songs written for his voice, including Jon Chenette's "Broken Ground" with the Des Moines Symphony and Gavin Chuck's "Confiteor" with the Ossia Orchestra. His portrayal of Don Giovanni, under the baton of Julius Rudel with the Aspen Opera Theater, was hailed by the Denver Post as "a triumph."